Glutenfree
Lactosefree
Calcium
+ Magnesium + D3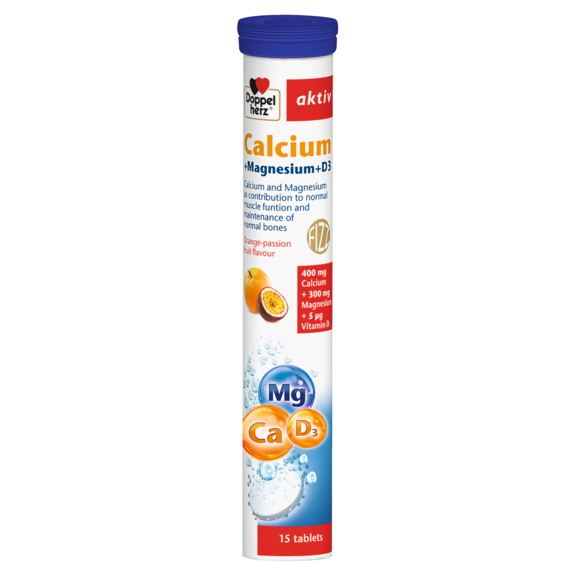 ---
Calcium and Magnesium as contribution to normal muscle function and maintenance of normal bones
Effervescent tablets with Calcium, Magnesium and D3
With orange-passion fruit flavour
Glutenfree
Lactosefree
---
Magnesium and Calcium are the two essential minerals for heart, bones and muscles.
Also, Vitamin D3 promotes the integration of Calcium into the bones. Both minerals (Magnesium and Calcium) together are necessary for a normal working muscle function and metabolic processes.
An optimal supply of vitamins and mineral is essential for the well-being and performance of our body.
The two minerals Magnesium and Calcium work closely together in numerous metabolic processes in the body, and together with Vitamin D they contribute to normal muscle function and the maintenance of our bones.
Magnesium contributes to:
- the normal function of the nervous system
- normal muscle function
- energy metabolism
- the electrolyte balance
Calcium is an essential component of bones and teeth and plays a role in, e.g.:
- normal bone maintenance
- signal transmission between nerve cells
- normal blood clotting
Vitamin D:
- supports the normal function of the immune system
- contributes to the maintenance of normal bones and teeth
Supplementation with Doppelherz Magnesium + Calcium + D3 effervescent tablets is recommended in case of an unbalanced diet or an increased nutrient requirement, e.g. during physical exertion such as sports.
Composition
| Ingredients | per effervescent tablet |
| --- | --- |
| Calcium | 400 mg |
| Magnesium | 300 mg |
| Vitamin D | 5 µg |
Consumption recommendation
Take one tablet daily. Dissolve in a glass of water (200 ml) and drink.
Note
Do not exceed the stated recommended dosage! Food supplements should not be used as a substitute for a varied diet. The product should be stored out of the reach of children. Do not store above 25 °C.
Ingredients
Citric acid, Magnesium carbonate, Calcium carbonate, Sodium hydrogen carbonate, Tricalcium phosphate, Flavour, Sodium cyclamate, Starch, Beetroot juice powder, Saccharin sodium, Riboflavin-5'-phosphate sodium, Cholecalciferol (Vitamin D3)
Reviews
No ratings have been submitted yet. Submit your first review here.